atve signalling s.a.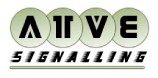 ATVE S.A. Signalling is an SME of around twenty people, that specializes in the production and renovation of electromechanical relays for railways, subways, trams, nuclear power plants, the steel industry, the cement industry and the list goes on...
Having found its market "niche", the company is constantly seeking new solutions for its customers. The accuracy of the settings, the strict controls and the expertise of its operators puts ATVE Signalling in a unique and reliable partnership with Belgium for safety relays.
A qualified ISO 9001 company, its focus is on total quality and it intends to look towards foreign markets in the coming years.

Some examples of safety relays